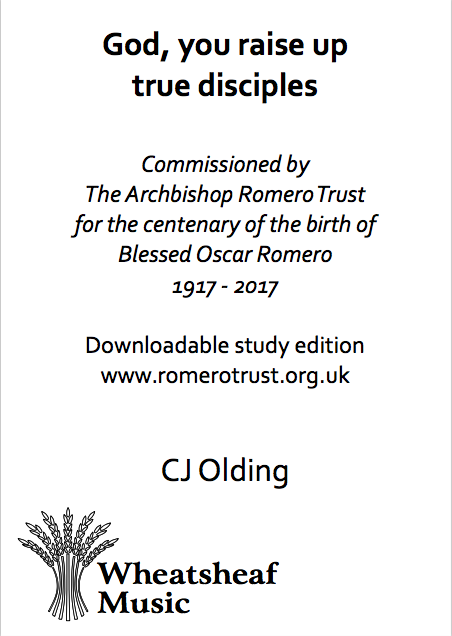 This hymn, composed by Chris Olding of Wheatsheaf Music, was commissioned by The Archbishop Oscar Romero Trust to mark the centenary of the birth of Blessed Oscar Romero. The words are based on transcriptions of Archbishop Romero's homilies, recorded and broadcast to the people of El Salvador, and on reflections upon what our response should be to his challenge.
You can listen to the hymn by clicking here.
This hymn is supplied with an original tune, but may also be sung to any strong tune with 87 87 D metre, such as Blaenwern or Ode to Joy. You can download a study version of the hymn below. To buy the full music edition for just £1.50, please visit Wheatsheaf Music.
The publication includes background information about Blessed Oscar, The Romero Trust and references to his homilies to help in personal study, prayer and discussion. An photocopyable assembly edition is also included.
The hymn is also suitable for themes such as discipleship, mission, justice and peace, by using the alternative words provided.
The Archbishop Romero Trust is incredibly grateful to Chris Olding for composing such a wonderful hymn to mark this special year.
Attachments:

Romero Hymn Study Ediiton