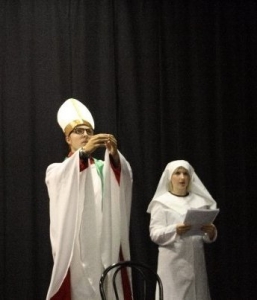 First staged in 1982 Romero: the Musical by George Daly and Liam Bauress now has its own website following the sell-out production by Click Productions in London in September 2009.
As well as being able to listen and sample the various tracks the main feature of the website is a suite of downloads to assist future independent productions. The site gives access to the basic libretto, the London Premiere director's script with lighting and sound cues as well as references to the 44 freely available guide tracks on Youtube. Also on the site are the backing track CDs and the magnificent 28-piece pit orchestra score arranged by Richard Benbow.
We hope more and more drama groups will follow Click Productions' lead and take on the challenge of staging their own performance of Romero. Whilst there are modest charges for downloads - all the money goes to CAFOD's El Salvador development projects.