Romero Century: 1977-1980
1977 February 
Romero was appointed and installed as Archbishop of San Salvador amidst unprecedented national tension following fraudulent presidential elections and the massacre of protesters.
1977 March 
On Saturday March 12th Romero's friend, Fr Rutilio Grande, was assassinated by a death squad together with two companions (Manuel Solórzano and Nelson Lemus) as they drove into the countryside to say Mass. Romero ordered that the following Sunday, March 20th, the Churches of the diocese be closed and all the masses cancelled. He celebrated a 'single mass', attended by 100,000 people, in front of the Cathedral. At the end of the month Romero was received in audience in Rome by Pope Paul VI.  Romero explained to him the background to the crisis in El Salvador.
1977 May 
On May 11th Fr Alfonso Navarro was assassinated at his rectory, together with a young parishioner, Luis Torres. A week later the town of Aguilares was occupied by the army and the parish church was used as a barracks with the desecration of the Blessed Sacrament.
1977 June 
On June 21st, the White Warrior Union issued their infamous "War Order No. 6," threatening to kill all Jesuits in the country who had not left within 30 days. 
1977 July 
Since there had been no attempt to identify the perpetrators of Rutilio Grande's murder, in an unprecedented gesture, Romero did not attend the inauguration of the new President on July 1st.
1978 February 
Romero was awarded an Honorary Doctorate from Washington's Georgetown University. It was conferred in the Cathedral in San Salvador on February 14th.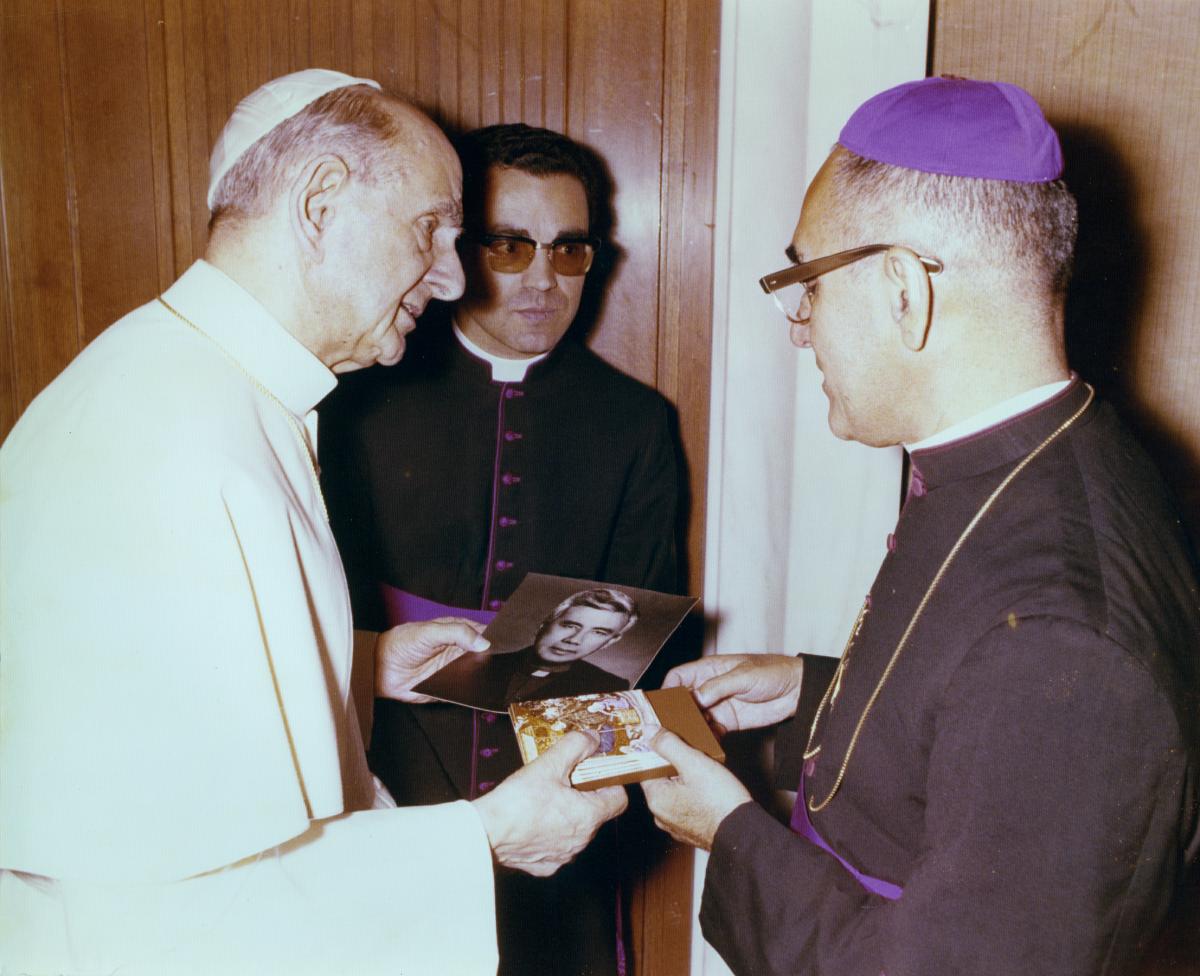 1978 June 
Romero made a second visit to Rome. There were frosty meetings and admonitions from Curial officials but Pope Paul VI once again gave Romero his firm support.
1978 August   
Pope Paul VI died on August 6th.  Dated that same day, Romero issued, jointly with Bishop Rivera Damas, a Pastoral Letter examining the critical issues surrounding the Church and the Popular Political Organisations. Two days afterwards a hasty riposte was issued by four other bishops - publicizing dramatically the deep divisions in the hierarchy.
1978 October
After John Paul I's untimely death, Karol Wojtyła was elected taking the name Pope John Paul II.
1978 November 
The Nobel Committee in Oslo received Romero's nomination for the 1979 Nobel Peace Prize signed by 118 British MPs and Peers. On November 28th in San Salvador Fr Ernesto Barrera was killed by the security forces under disputed circumstances.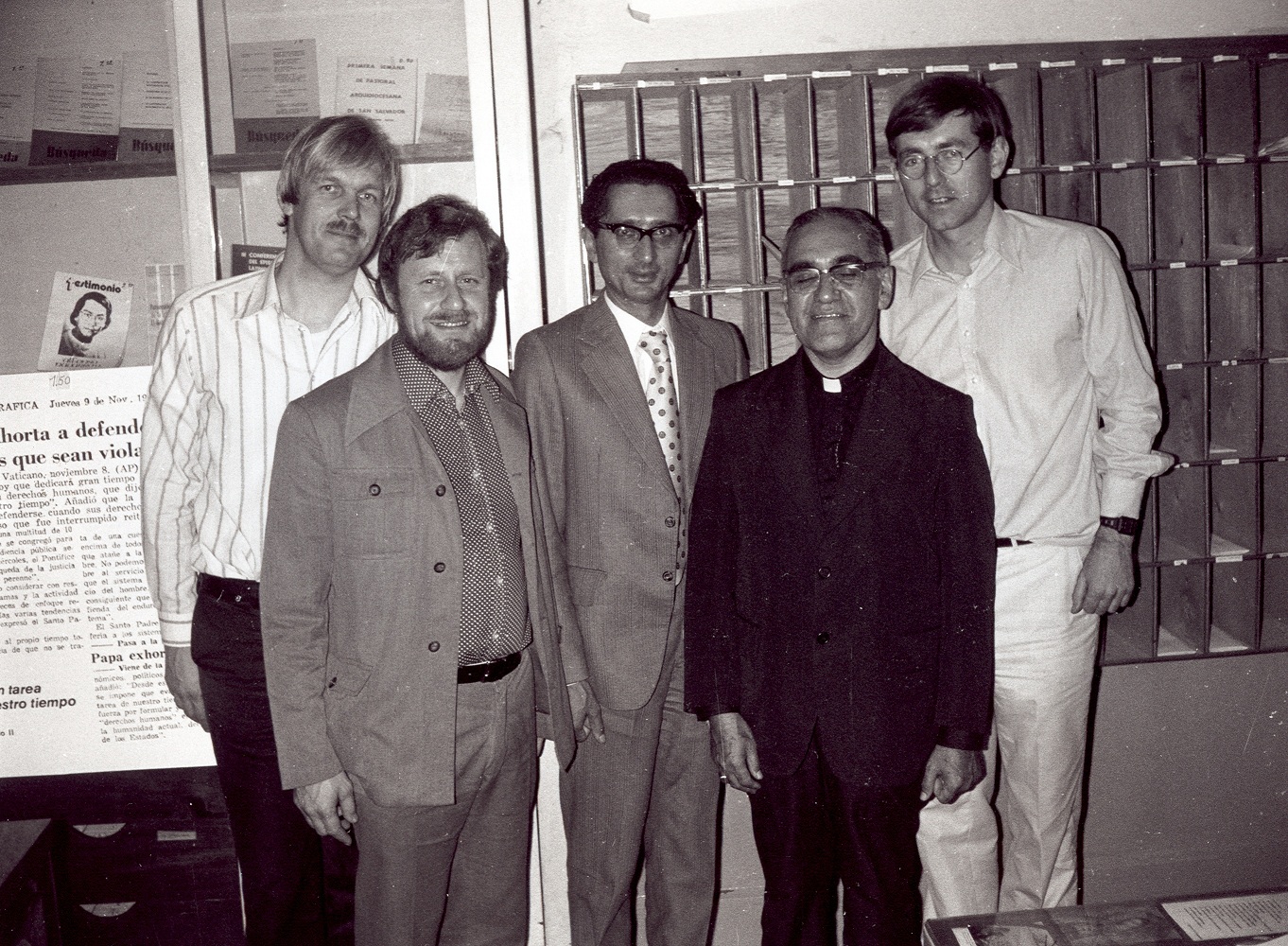 1978 December 
A three-person delegation from the British Parliamentary Human Rights Group visited El Salvador to offer support to Romero and to investigate the human rights situation. They discovered interrogation and torture cells inside the National Guard headquarters. On December 14th Argentine Archbishop Antonio Quarracino arrived in San Salvador on an Apostolic Visitation to the diocese, to investigate the divisions in the episcopate - and Romero.
1979 January 
Fr Octavio Ortiz and four young retreatants were killed by security forces at the El Despertar Centre in San Antonio Abad parish on January 20th. Two days later Romero travelled to Puebla, Mexico, for the CELAM Latin American Bishops' meeting.  Although he was not sent as a representative of the Salvadoran bishops, his presence was a cause célèbre at the meeting.
1979 February 
The Puebla Conference concluded. Romero received expressions of solidarity from bishops across the continent shocked at the persecution of the Church in El Salvador.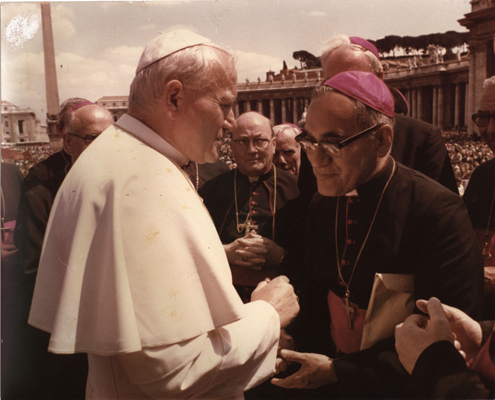 1979 May 
In the first days of the month Romero visited Rome for the third time as archbishop and was received in private audience by Pope John Paul II. The meeting was difficult but the outcome was satisfactory for Romero. On May 8th, whilst Romero was away, police fired on a peaceful demonstration taking place in front of the Cathedral, leaving 25 dead and 70 wounded. Foreign journalists filmed the whole scene.
1979 June 
Fr Rafael Palacios was assassinated in the street in Santa Tecla after receiving death threats.
1979 July 
The Sandinista Revolution overthrew the Somoza dictatorship in neighbouring Nicaragua.
1979 August 
Fr Alirio Napoleon Macias was gunned down by three police agents inside his parish church, San Esteban Catarina, in San Vicente diocese.
1979 October 
A military coup on Monday October 15th brought to an end the regime of General Carlos Romero and installed a civilian-military junta to govern the country. Romero gave a guarded and conditional welcome to the change. This was denounced as a betrayal by some leftist groups.
1979 December 
In the last days of the month Brazilian Cardinal Aloisio Lorscheider made an unofficial fact-finding mission to El Salvador on behalf of the Holy See.
1980 January 
The civilian-military junta collapsed and was replaced by a second junta following an agreement between the military and the Christian Democrat party. Escalating repression culminated in the firing on an orderly demonstration on January 22nd leaving 20 dead and 120 wounded. Civil war was in the air.
1980 February 
Romero made a lightning visit to Belgium to receive an honorary doctorate from Louvain University on February 2nd.  On February 17th Romero sent an Open Letter to US President Jimmy Carter pleading for an end to military aid to the Salvadoran security forces.
1980 March 
A suitcase of dynamite was discovered behind the altar at the Basilica where Romero was to deliver his Sunday morning homily on March 9th. In his last Sunday homily on March 23rd Romero pronounced his own death sentence when he demanded that rank and file soldiers refuse to obey sinful orders to fire on innocent civilians.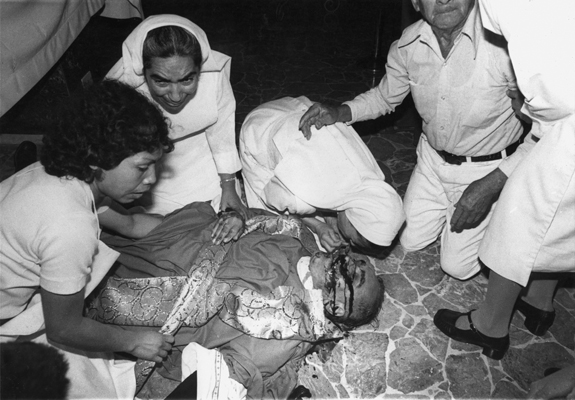 1980  Monday March 24th
Romero was assassinated at 18.26 in the evening as he celebrated Mass in the chapel of the Divine Providence cancer hospital where he lived.
1980 Tuesday March 25th
Within twelve hours of Romero's killing, in Canterbury Cathedral, the site of Thomas a Becket's 12th century martyrdom, Robert Runcie was installed as Archbishop of Canterbury becoming the spiritual leader and symbolic head of the worldwide Anglican Communion. A special bond was thus established between Oscar Romero and the Anglican Church.
1980 Sunday March 30th   
It was Palm Sunday.  Romero's funeral mass in front of the Cathedral was disrupted when bombs were thrown into the crowds. Some 40 people died in the shooting and stampede that followed.
1980 May 
On May 7th former army Major Roberto D'Aubuisson was arrested with a group of civilians and soldiers at a farm. The raiders found documents connecting him and the civilians as organizers and financiers of the death squad who killed Archbishop Romero. The National Guard carried out a massacre at the Sumpul River on May 14th, in which an estimated 600 civilians were killed, mostly women and children.
1980 June 
Fr Cosme Spessotto, an Italian Franciscan missionary was shot through the head whilst at prayer in the parish church of San Juan Nonualco on June 14th. 
1980 December 
Four US women religious, Maura Clarke, Ita Ford, Dorothy Kazel and Jean Donovan, were raped and murdered by soldiers of the National Guard on December 2nd.
From the end of 1980 civil war engulfed El Salvador and ended only in 1992.
Attachments:

Century of Romero