Archbishop Romero was canonised by Pope Francis at a ceremony in St Peter's Square in Rome on Sunday October 14th. His Feast Day remains March 24th.
This is the wonderful culmination of a process that was launched in 1990 on the tenth anniversary of Romero's assassination. The road to sainthood proved to be long and arduous with obstacles placed in the path of the Cause for Beatification by powerful figures in the Latin American Church and the Vatican Curia who fiercely opposed Romero's recognition as a martyr of the Church.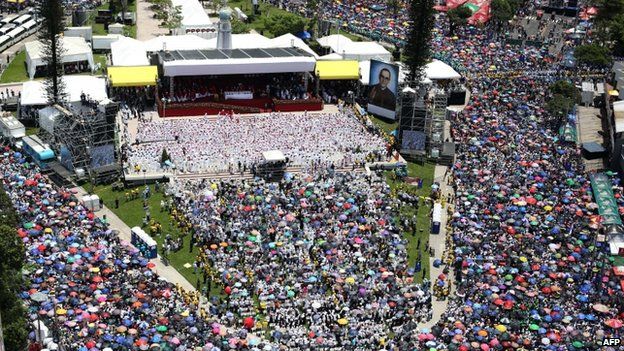 In 2013, however, Pope Francis, in his own words, 'unblocked' Romero's paralysed canonisation process and he made it clear that he wanted to see Romero's 'Cause' brought to its conclusion without delay.
Two years later, following all the prescribed procedures of the Congregation for the Causes of the Saints, Archbishop Romero was proclaimed a martyr, 'in odium fidei', killed out of hatred of the faith. When martyrdom is declared there is no requirement for a miracle prior to beatification. And so, at a magnificent ceremony in San Salvador on May 23rd 2015, he became Blessed Oscar Romero (see image on the right).
Beatification is the penultimate step on the road to full sainthood.  But for canonisation a miracle does become necessary. The recognition of a miracle through Oscar Romero's intercession was therefore the final hurdle to be cleared before canonisation.
It came through Mrs Cecilia Maribel Flores de Rivas.  A 34-year-old pregnant Salvadoran woman, she was diagnosed as fatally ill, yet she not only gave birth safely but had a speedy, complete and lasting recovery following prayers by her family and her Church community seeking Blessed Oscar Romero's intercession.
On 6th March 2018, in the wake of an exhaustive investigation, the Vatican Saints Congregation, with authorisation from Pope Francis, promulgated a decree affirming that her recovery was scientifically 'inexplicable in the light of present-day knowledge' – in other words, a miracle.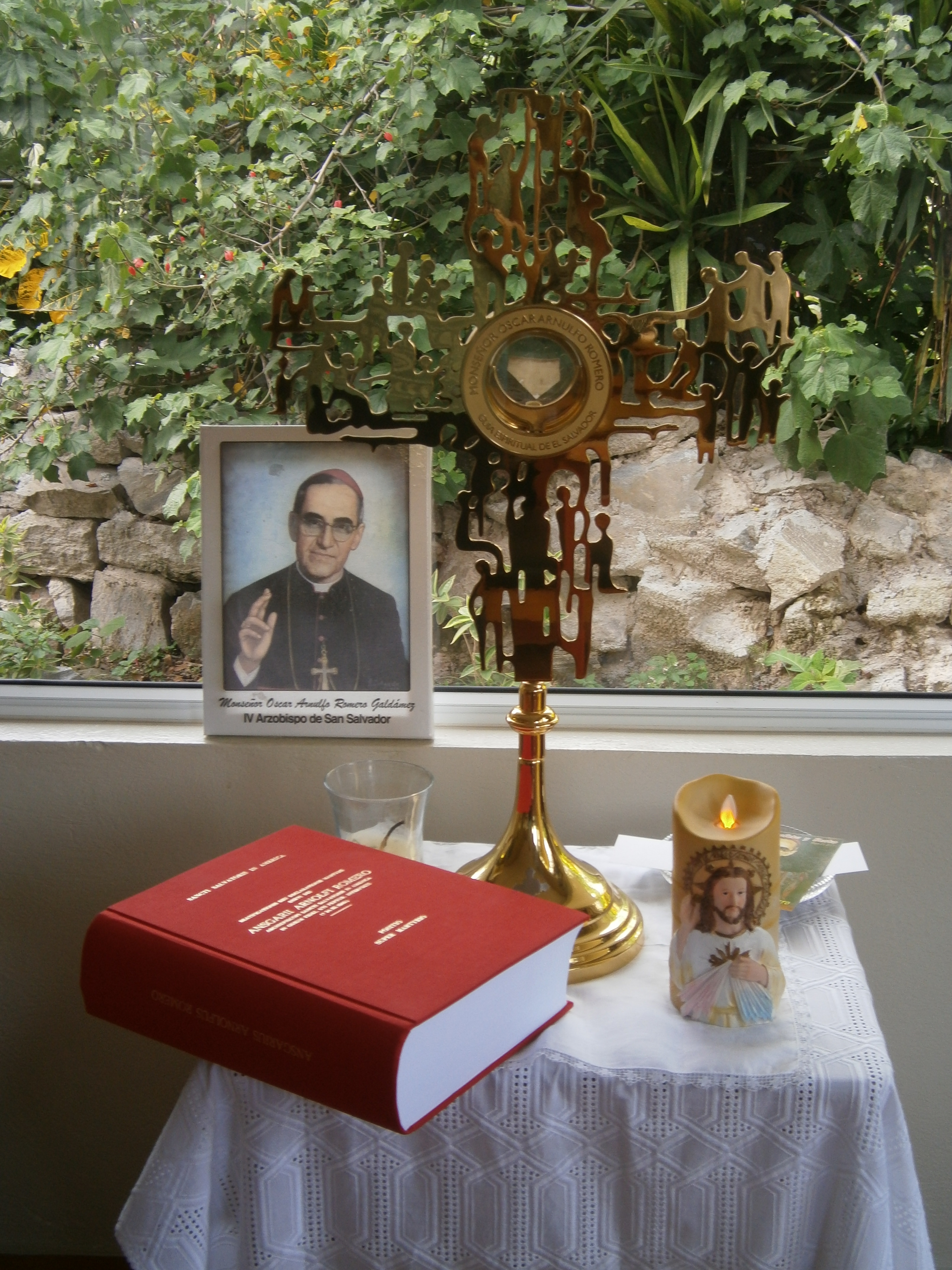 The canonisation took place on 14th October 2018, during the Assembly of the Synod of Bishops with its focus on Young People was taking place in Rome. Romero was canonised together with Pope Paul VI, two priests, two women religious and a young lay person.
St Oscar Romero – Pray for Us.
At the bottom of the page you can download a Beatification Chronology (1993 to 2014) taken from the Positio which explains the delays in the process.
The image on the left is taken at the home of the Sisters who run the Hospitalito, where Romero lived and was martyred. The red book is a copy of the Positio which detailis Romero's life and cause for sainthood.
Attachments:

Beatification Chronology