Romero Century 1967 - 1977
1967
On April 4th Romero celebrated the silver jubilee of his ordination and received the title 'Monsignor'. He left San Miguel behind and moved to San Salvador to take up the position of Secretary of the Salvadoran Bishops' Conference. He lived at the major seminary where he befriended the Jesuit priest, Rutilio Grande, who was on the staff there.
1970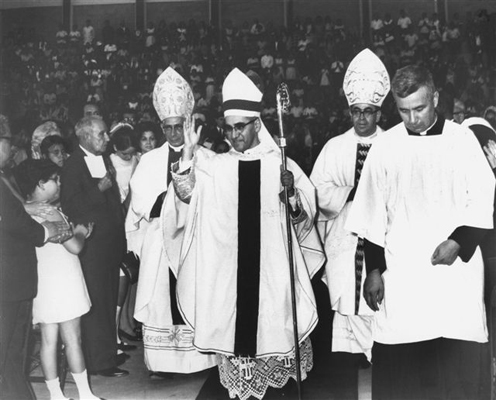 On June 21st Romero was ordained an Auxiliary Bishop in San Salvador, with Fr Rutilio Grande as his Master of Ceremonies. He chose as his episcopal motto Sentire cum Ecclesia - 'To think and feel with the Church'.
1971 
Following a spiritual retreat in Mexico, Romero determined to tackle his scrupulosity and certain obsessive compulsive traits in his personality. He undertook counselling with cognitive therapy and subsequently overcame them.
1973 
Romero became involved in a public dispute with the Jesuits, whom he accused of promoting Marxism dressed up as 'liberating education' in their High School.
1974 
Romero was appointed Bishop of Santiago de María, a small rural diocese in the coffee growing region.
1975 
A massacre of five campesinos by the National Guard at Tres Calles in the diocese profoundly shocked Romero, and he wrote a letter of protest to the country's President.
Attachments:

Century of Romero