Beatifications in El Salvador
Published date:
On the afternoon of Saturday, 22 January in a ceremony in San Salvador at which the Salvadoran Cardinal Gregorio Rosa Chavez will preside, Rutilio Grande SJ will be beatified together with his two lay companions, Manuel Solorzano and Nelson Lemus.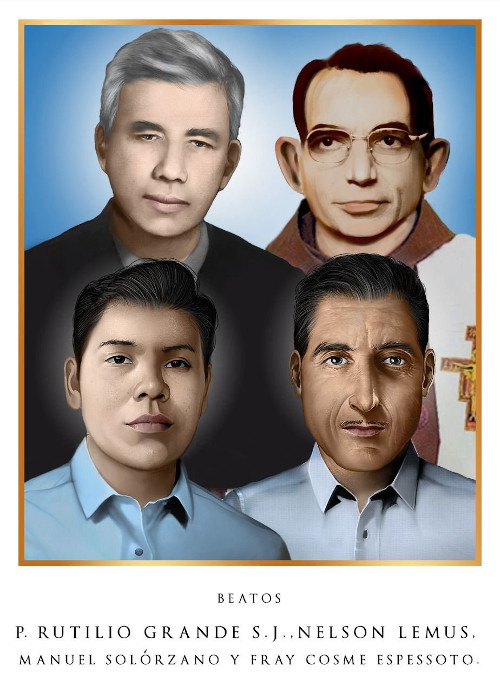 In the same liturgy, which will take place in the capital's Salvador del Mundo Square, Cosme Spessotto OFM, an Italian missionary priest murdered in El Salvador in June 1980, will also be beatified.
All four were killed out of 'hatred of the faith' and thus were declared martyrs of the Church by Pope Francis two years ago. The COVID pandemic has unsurprisingly caused a major delay to the beatifications.
The Beatification ceremony is due to be broadcast live on https://tvcaelsalvador.org/ - we do not currently have an exact link. Other options at the bottom of this article.
Fr Rutilio Grande SJ
Rutilio was assassinated on 12 March 1977 together with his sacristan, Manuel Solorzano, and young assistant Nelson Lemus (who had recently turned 15). They were shot by a death squad as they drove from Aguilares to celebrate Mass in the village of El Paisnal.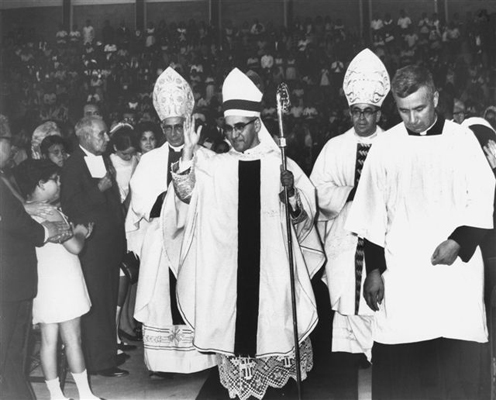 The killings occurred less than three weeks after Oscar Romero was named Archbishop of San Salvador. As a Jesuit priest Rutilio had served, ten years earlier, on the staff of the seminary in San Salvador where Oscar Romero came to live - and they became friends. In the photo on the right, taken at Romero's episcopal ordination, Rutilio can be seen as MS on the right handside.
Standing with the campesinos
Rutilio took charge of the rural parish of Aguilares in 1972. It was at the epicentre of growing tension and social conflict where landless peasants worked as exploited day labourers on the vast sugar cane plantations of wealthy landowners.  Rutilio, with a team of young Jesuits, promoted programmes of conscientisation in the manner of Paulo Freire and established a remarkable network of small Christian communities following the directives from the Medellín Conference of Latin American Bishops.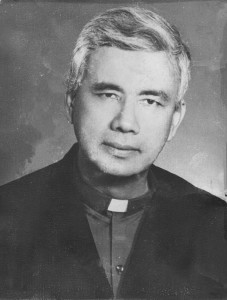 Rutilio preached and spoke with passion and clarity about the injustices suffered by the rural population and he stood with them as they organised to seek land reform and social development. Pastoral accompaniment was their basic approach. They sought to serve rather than be served. But the landowners came to see Rutilio's pastoral programmes as a great threat to their interests. 
Rutilio's martyrdom and Archbishop Romero
The killing of this Salvadoran priest was a huge shock, but especially to Rutilio's friend Archbishop Romero. Romero determined to follow the same path, taking the side of the poor and exploited, that Rutilio had pioneered - and it put Romero on the road to his own Calvary three years later.
More about the martyrs
There are excellent articles, lectures, sermons and books recounting Rutilio's story in detail from various angles. Here are links to a few of them.
The most recent article is by Ana María Pineda, a member of the Sisters of Mercy.  She is a native of El Salvador and a distant relative of Rutilio Grande.  She is an associate professor of religious studies at Santa Clara University, in California. Her latest book, Rutilio Grande, Memory and Legacy of a Jesuit Martyr, is published this month. Her article appears on America magazine's site and can be accessed HERE.
This week also sees an article by the German theologian, Martin Maier SJ, which can be found on The Tablet website HERE.
In 2016 Rodolfo Cardenal SJ, the principal biographer of Rutilio Grande, delivered the Archbishop Romero Lecture here in Britain. It was entitled 'Rutilio, Romero and Pope Francis'. The text can be accessed HERE and a recording of his lecture at the Centre for Catholic Studies at Durham University in Durham can be viewed below.
Last April, Julian Filochowski, gave a homily at St Martin-in-the-Fields Church in London entitled 'Rutilio and Romero – Martyrs for Our Time' and it can be read HERE and viewed below.
The Trust has recently been given a brief reflection by Anibal Meza, a Jesuit priest who is from Aguilares and who worked as a literacy coordinator with Rutilio Grande. Entitled 'Remembering Fr Rutilio Grande and the Parish of Aguilares', you can read it HERE. 
Much earlier, back in 2005, the late Dean Brackley SJ wrote and spoke about Rutilio for a North American audience. Dean is always worth reading. Click HERE to read his text. 
With these latest Salvadoran martyrs recognised, and hundreds of others killed for their pastoral work as catechists and Delegates of the Word, Dean Brackley offers us a most apt comment:
"El Salvador exports not only coffee but also faith.
To watch the Beatification: