Sister Pamela Hussey SHCJ
Published date:
Founding member of the Archbishop Romero Trust, Sister Pamela Hussey, died peacefully on 13th December, at the nursing home of the Sisters of the Holy Child Jesus in Harrogate, just three weeks short of celebrating her 100th birthday.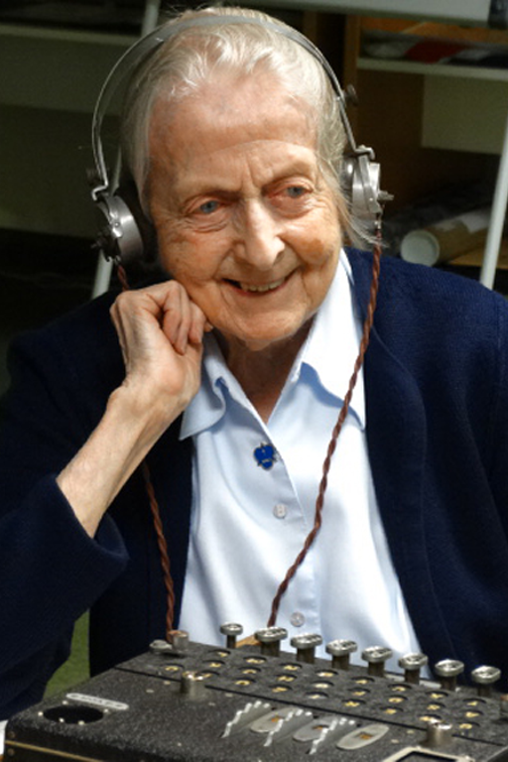 Born of English parents in Argentina, Pamela always said that she felt that hers might be described as a life of two halves or, more accurately, of two continents, Latin America and Europe. In 1942, at the age of twenty, Pamela quit her job at the British Embassy in Buenos Aires. She demonstrated the fearlessness which was to become her hallmark when she decided – at the height of World War II - to undertake the perilous journey across the Atlantic.
She set sail for Britain to join the WRNs and 'do her bit' for the war effort, jokingly downplaying her decision years later by saying, "I only joined for the hat!" But it was a hazardous voyage from South America to Britain and the vessels immediately ahead of and behind Pamela's ship were sunk by U-Boats.  On arrival in Britain Pamela enrolled in the Royal Navy and was sent to the Irton Moor listening post, now GCHQ Scarborough, as a WRNS Wireless Telegraphist special operator in Signals Intelligence.
Pamela and her colleagues would transcribe German communications sent in Enigma-encrypted code, which was then passed to a mysterious 'Station X', now known as Bletchley Park.  Pamela's role in the war effort was recognised by the French Government in 2018 when she was awarded the French President's highest order of merit, the Légion d'Honneur.  (Image right is Pamela on a visit to GCHQ museum in Scarborough.)
At the end of the war Pamela returned to Argentina but in 1950, in search of what she called a "deeper commitment", she moved to Britain and joined the Society of the Holy Child Jesus. She studied at Oxford and spent years as a teacher of modern languages whilst also acting as secretary to the leader of the SHCJ province. 
Just as she was about to reach the age of 60 Pamela said, "the two continents of my life came together again".  Pamela had long supported Justice and Peace and she was eager, once again, to "do her bit".  This time it was another war which compelled her into action:  in El Salvador Archbishop Oscar Romero had been murdered the previous year for denouncing the repression of the poor and espousing their cause. Throughout Central America vicious military regimes, backed by the US, were violently suppressing peaceful protest and the region was heading towards all-out civil war. 
Pamela found an outlet for her moral and spiritual indignation when she was approached by Julian Filochowski of CIIR, the Catholic Institute for International Relations, who asked whether she might lend a hand in managing their overwhelming workload at such a critical time for Central America.  Pamela, whose perfect fluency in Spanish could be a huge asset to CIIR, hardly dared to hope that she might be permitted to offer her services.  Much to the surprise and delight of both Pamela and CIIR, her Provincial agreed to release her to work full-time as a volunteer.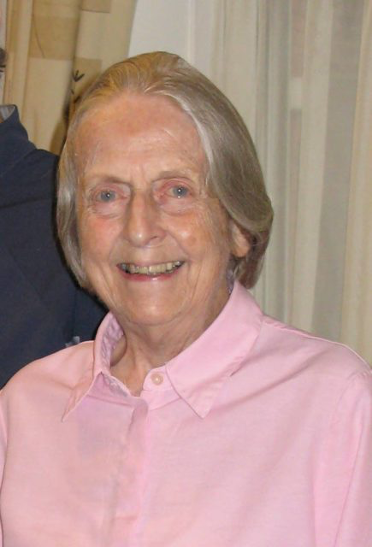 For the next 25 years at CIIR Pamela devoted her energies to the cause of the poor throughout Central America but especially found her calling in El Salvador, traveling frequently to the country to learn how best to provide support and encouragement to CIIR's key friends and allies there.  She became an eloquent advocate and ambassador for the Church in El Salvador, fostering particularly close relationships with the religious and missionary congregations, the Jesuits, Franciscans and Poor Clares, who, in turn, doted upon her.  Pamela discovered a whole new vocation and what she described as "a new ministry of writing", becoming particularly inspired by the role and leadership of women she encountered through her work.  Her first book, Free from Fear: Women in El Salvador's Church, was published by CIIR in 1989, followed by four more volumes which she co-wrote with her Quaker colleague, Marigold Best.    
Pamela was perhaps CIIR's most powerful secret weapon in challenging the apologists for US (and British) foreign policy in Central America.  If any one individual embodied the value of "speaking truth to power" without fear or favour, that was Pamela.  Her  diminutive stature and rather prim and genteel demeanour belied a spirit of steely resolve and courage.  
Nobody could patronise Pamela, or if they tried, they certainly wouldn't attempt it a second time.  Woe betide anyone who underestimated Pamela, and numerous politicians, government officials and journalists learned this the hard way when she refused to leave unchallenged any empty platitude or condescending remark.  No wonder that, upon her retirement (at 85!)  from CIIR/Progressio, so many women present at her farewell party agreed wholeheartedly that Pamela was a role model – "you are who we all want to be when we grow up!"
In 2000, Pamela was awarded an MBE for her work for human rights and in 2004, whilst still working full-time at CIIR, she became one of the five founding trustees and the first treasurer of the Archbishop Romero Trust.  She was delighted and proud that the official address of the Trust was Dean's Mews, Cavendish Square, the home of the SHCJ community where she lived.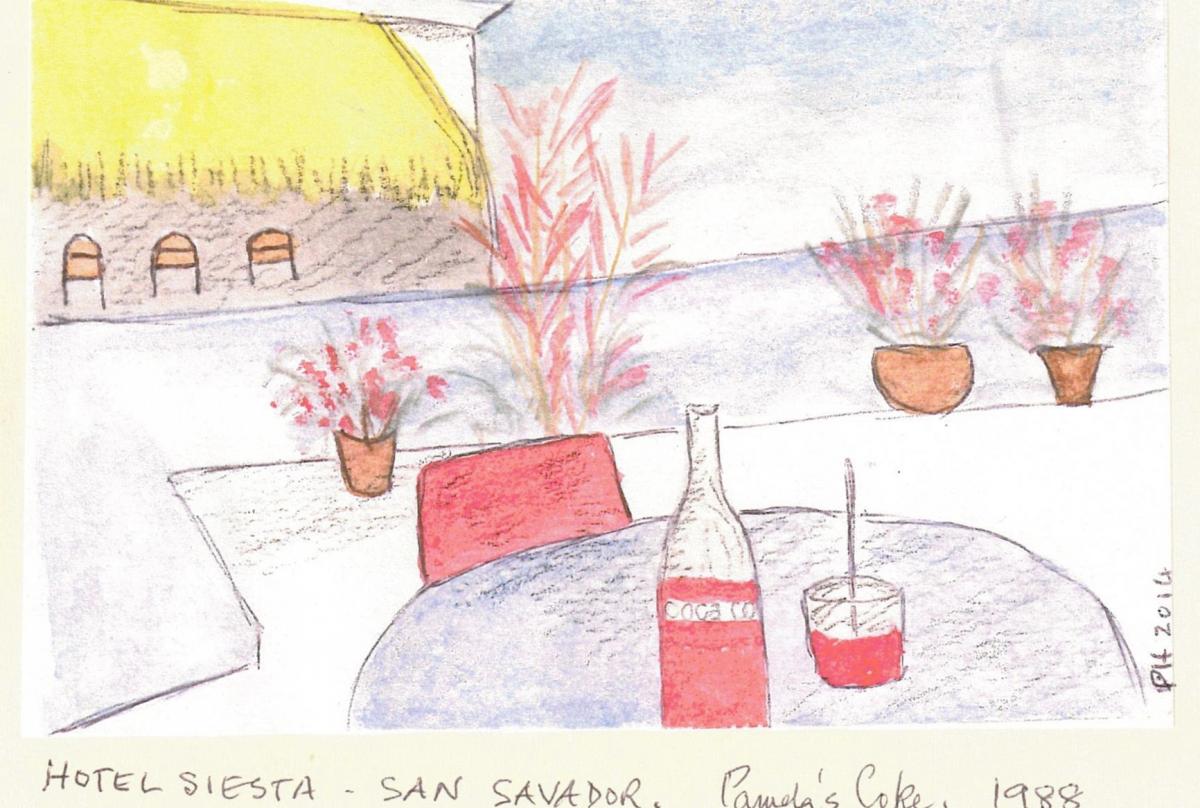 At the age of 91 she stepped down as a Trustee and took on the senior role of Patron of the Trust when she moved to the SHCJ retirement home in Harrogate.  There she maintained her lively interest in world affairs, enjoying conversation with visitors, reading Le Monde Diplomatique, daily walks to a local café and sending friends amusing notes and the watercolours which were her lifelong pastime (see above, entitled 'Pamela's Coke').
Pamela was close to her family, and into her eighties she was very assiduous and attentive to her mother, who lived to the great age of 104.  Many of us were convinced that Pamela was determined to reach her own centenary.  Sadly that was not to be, but Pamela will be loved and remembered by her family and many friends across the world.  As her brother Peter said, "she was a good Sister, and a good sister".
Perhaps the words of the envoy of the French government in 2018 when awarding  Pamela the  Legion d'Honneur best sum her up: 
"The Legion d'Honneur expresses righteousness, honour, heroism and excellence.  Sister Pamela, you are a perfect example of someone who deserves our gratitude and thanks."
Sister Pamela Hussey SHCJ  7 January 1922 – 13 December 2021