Published date:
Events across the UK took place to mark the 39th anniversary of St Oscar Romero's martyrdom on 24 March 1980. 

They included the National Ecumenical Service at St Martin in the Fields Church, London, with preacher: Dr David McLoughlin, Visiting Honorary Fellow at Newman University, Birmingham. Read the text of David's Address by clicking HERE.
Two shrines were also dedicated to St Oscar Romero, one in London, the other in Edinburgh. Read an account, thanks to ICN, below.
The Blessing of the Diocesan Shrine to St Oscar Romero, and also new shrine gates, took place during a Mass at St. George's Cathedral, Southwark, on 23 March, marking the 39th anniversary of the martyrdom of Romero. Archbishop Peter Smith of Southwark presided, Canon Alan McLean led the music and supporters of the Romero Trust did readings, particularly Sr Cathy Jones, Religious of the Assumption, and Fr Kevin Alban, Prior Provincial of the British Carmelites. Completion of the new shrine gates was made possible by the generous support of the Assumption Sisters and Carmelites.
Since 2013 the Archdiocese of Southwark has celebrated an annual liturgy in commemoration of St Oscar Romero. The Homilist was Monsignor Patrick Kilgarriff, former Rector of the English College in Rome, who gave a poignant reflection on Romero's life and ministry. He made links to social problems in Britain today, especially homelessness and refugee issues.
You can view images from the blessing and dedication of the shrine in St George's Cathedral on the Archdiocese of Southwark Flickr site by clicking HERE.
At the Southwark Cathedral Mass, Julian Filochowski, Chair of the Romero Trust, thanked successive cathedral administrators - Canons James Cronin, John O'Toole and Richard Hearn - for their support in setting up the Romero shrine. He pointed out that St Oscar Romero would have appreciated their efforts. He was for a decade the administrator of the Cathedral of San Miguel Diocese, El Salvador, and was Guardian of its Shrine to Our Lady Queen of Peace.
The following day, on 24 March, the Romero Shrine for Scotland was blessed and dedicated by Archbishop Leo Cushley at the Sacred Heart Jesuit Parish, Lauriston St, Edinburgh. Relics of St Oscar Romero and Fr Rutilio Grande SJ were on show in front of a painting 'Saints of El Salvador' of the two priests by Peter Bridgman. The relic of St Oscar Romero is a piece of the bloodstained alb he was wearing when murdered in 1980, and a 1974 diary of his friend Rutilio Grande SJ is the second one. His assassination in 1977 did so much to prompt St Romero to speak out against injustice, leading ultimately to his own martyrdom just three years later. "A man of the Church, a man of his time, a man of great faith," was how Archbishop Cushley described St Oscar Romero in his homily.
You can view images from the blessing and dedication of the shrine in Edinburgh on the Jesuits in Britain Flickr site by clicking HERE.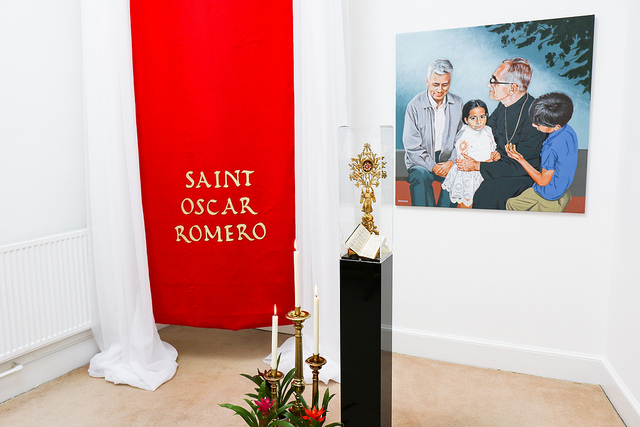 Parishioners were given a good opportunity to put compassion into action: Alistair Dutton, director of Scottish Catholic International Aid Fund (SCIAF), was visiting to make a retiring collection appeal. This was particularly opportune as St Oscar Romero and St Margaret of Scotland are patron saints of SCIAF. Parish Priest Fr William Pearsall SJ said: "It was a wonderful celebration of a great "saint for the poor" for whom there is immense devotion here in Scotland. I was delighted with how it all went and very grateful to the Archbishop and all the community and parishioners who contributed to the success of the blessing. The shrine will do permanent honour to St Romero's sacrifice."
St Oscar Romero's Feast Day on 24 March was his first official feast day as a saint. He was remembered by Justin Welby, the Archbishop of Canterbury, who tweeted: "St Oscar Romero. A champion of peace and justice, he opposed oppression and stood with the poor, underprivileged and marginalised. In all this he demonstrated the love of Christ. May his example of courage and commitment be a model for us all."
Missio tweeted: "24 March is the first feast day of St Oscar Romero. As a former Director of Missio (APF) in El Salvador, we ask St Romero to pray for us today - that inspired by the Holy Spirit we, like St Romero, share Christ's mission to build a world of justice, mercy, and love."