Liverpool Romero Lecture to celebrate 'Merseyside Prophets'
Published date:
The Liverpool Romero Lecture takes place on Wednesday 25 September. It is the first anniversary of Kevin Kelly, priest of the Archdiocese of Liverpool.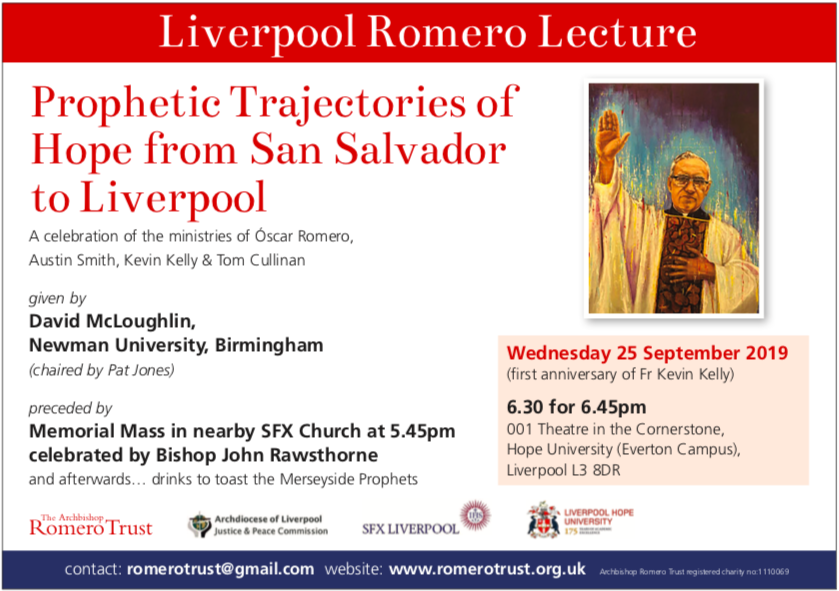 The lecture is on the 'Prophetic Trajectories of Hope from San Salvador to Liverpool', celebrating the ministries of Oscar Romero, Austin Smith, Kevin Kelly & Tom Cullinan - the latter three 'Merseyside prophets' were priests who served in the Archdiocese of Liverpool. It will be given by David McLoughlin from Newman University, Birmingham.
The evening will be chaired by Pat Jones. The lecture is preceded by a Memorial Mass in nearby SFX Church at 5.45pm celebrated by Bishop John Rawsthorne.
The lecture will take place in the 001 Theatre, the Cornerstone, Hope University, Everton Campus, Liverpool L3 8DR starts at 6.30 for 6.45pm.
Afterwards there will be drinks to toast the Merseyside Prophets.
All are very welcome!