Clare Dixon honoured by the UCA
Published date:
During the Romero Trust pilgrimage to El Salvador in November, Clare Dixon - Secretary of the Archbishop Romero Trust - was recognised for her dedication and support of people in the poorest communities of Latin America for over 40 years.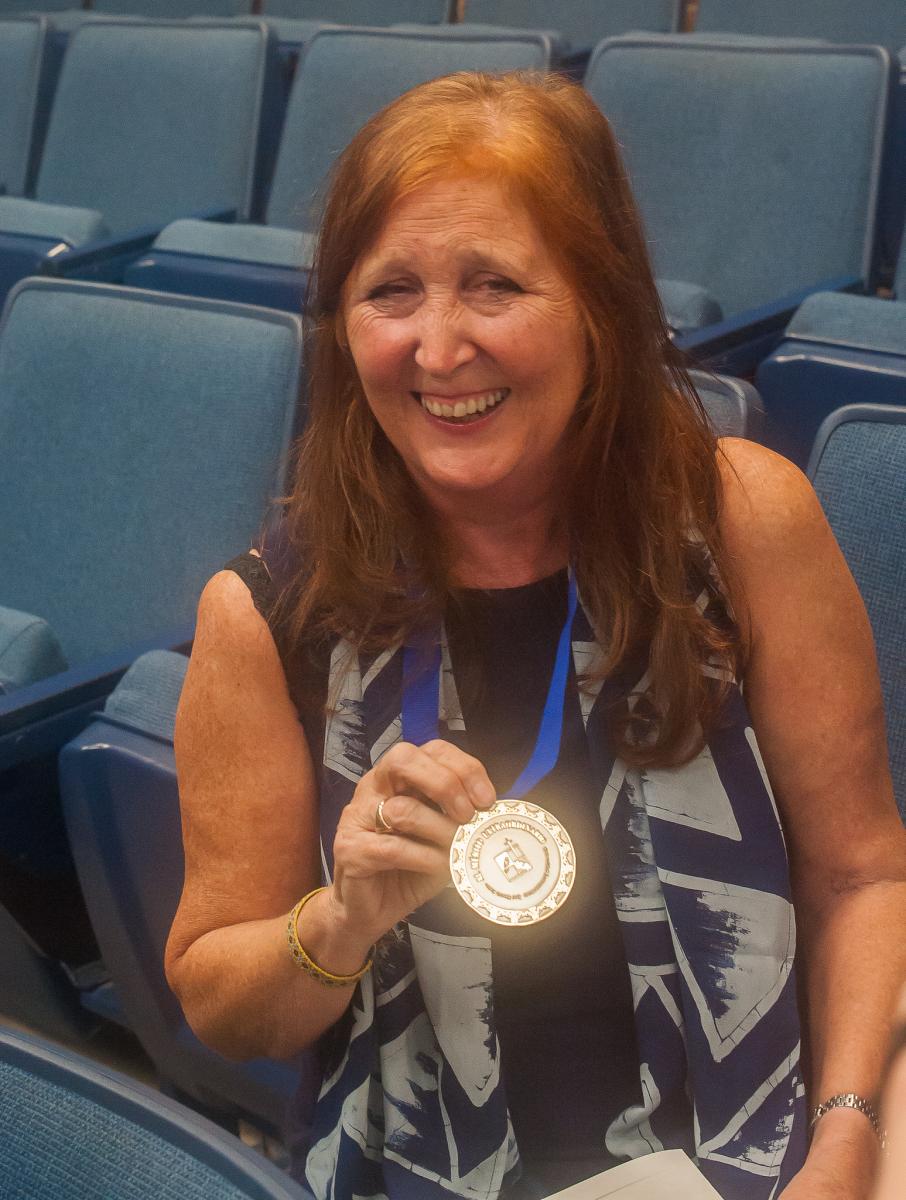 A special ceremony was arranged at the Jesuit University in San Salvador, known as the UCA. The University awarded to Clare (right with her shining medal!) the José Simeón Cañas Medal for Extraordinary Merit in recognition of her commitment and work in support of the people, the Church and the Society of Jesus in El Salvador and Central America (full citation below).
The medal - which is a very special distinction - was instituted in 1980; and this is only the 21st such medal to be awarded over these years. 
Clare has been Head of CAFOD's Latin America programmes for nearly 40 years - and since its inception in 2005 she has been Secretary of the Archbishop Romero Trust.
Huge congratulations to Clare!
Text of the commendation (translated from its original Spanish)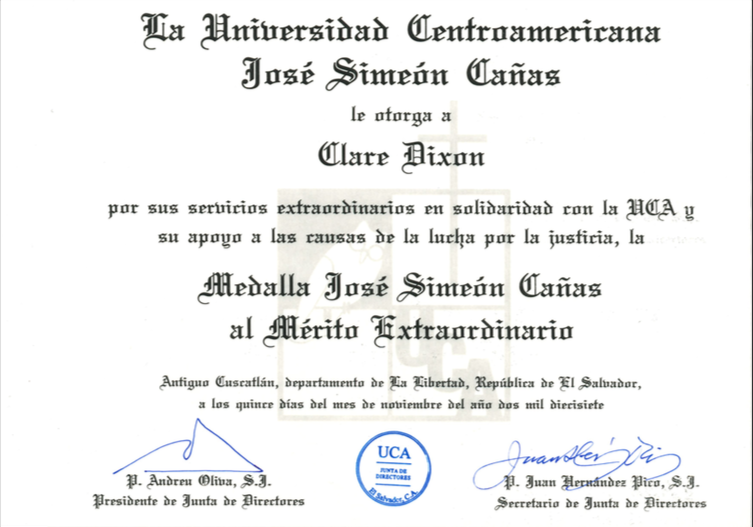 UCA: Award of the Jose Simeon Cañas Medal for Extraordinary Merit
The Board of Directors in its session JD-20/82, held on the twenty-sixth of April 1982, decided to create the José Simeón Cañas Medal for extraordinary merit with the object to recognise in a special way those persons who have distinguished themselves through outstanding and significant service and through their dedication to and identification with the Central American University José Simeón Cañas.
The Board of Directors, in its session JD-17/17 held on the first of November of 2017, decided unanimously to award the José Simeón Cañas Medal to Señora Clare Dixon, of the agency CAFOD, because of her distinction through:
Generosity and dedication to the poor throughout Latin America, especially in the countries of Central America, supporting their struggles in defence of human rights and dignity for forty years;
The solidarity she has shown through the support to numerous initiatives and works of the Society of Jesus in Central America;
The continued accompaniment to the UCA for more than 30 years and her contribution in favour of the social outreach work of the University, especially in defence of the cause of the martyrs;
The exemplary faith, hope and love which she has always shown in her work, especially in support of Monseñor Romero throughout his time as Archbishop and latterly in the foundation of the Romero Trust in Great Britain, to make known his life, his work and his legacy. 
Antiguo Cuscatlán, on the fifteenth day of the month of November of two thousand and seventeen
Andreu Oliva de la Esperanza S.J., President of the Board of Directors
Juan Hernández Pico S.J., Secretary of the Board of Directors
Image: Clare Dixon being congratulated by Jon Sobrino S.J.